Life in Kumamoto

Kumamoto City
Quality Living City Kumamoto(Produced by Kumamoto City)
Kumamoto University is located in the city of Kumamoto in Kyushu, the southern-most main island of Japan. Kumamoto City is the third biggest city in Kyushu. It has a population of approximately 737,000, which is equivalent to about 41% of the total population of the prefecture.
Kumamoto: A City of Convenience
Kumamoto city is one of the three major metropolitan areas in Kyushu. Being close to the city center that offers entertainment and daily living essentials for young people, Kumamoto University is located at just the perfect place for its students.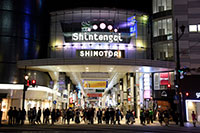 Kami Toori/Shimo Toori
This area of town presents a synergy of modern fashion and the elegance of a castle town, always bustling with the activities of young people.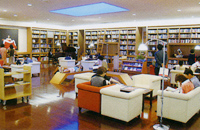 Contemporary Art Museum, Kumamoto
Located at the entrance of Kami Toori, Contemporary Art Museum, Kumamoto boasts its original and charming exhibits.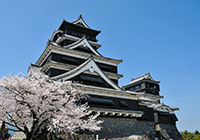 Kumamoto Castle
Kumamoto Castle, the symbol of Kumamoto, can be seen from all locations in the city. In 2008, the Honmaru Goten grand hall was opened to the public for the first time in its history, drawing a record number of 2.22 million visitors to the castle.
Kumamoto prefecture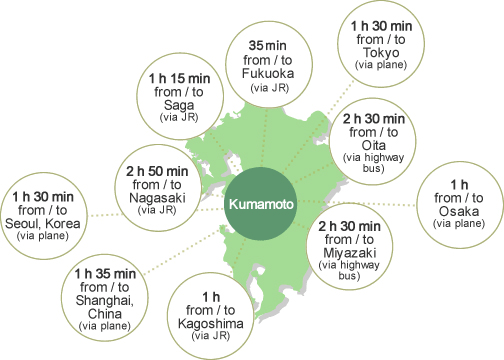 The ocean and mountains are only an hour drive away!
Within an hour drive from Kumamoto city, you will be able to enjoy the view of a vast ocean and the mountains, such as the Aso-Kujyu National Park in which Mt. Aso, the volcano with the world's largest caldera and grand somma, is located, as well as the Unzen-Amakusa National Park including the 120 large and small islands.
The Five Peaks of Aso (Commonly known as Mt. Aso)
The Five Peaks of Aso symbolize Kumamoto are also known as the "fire country." This volcano has been active since ancient times and continues to be active today. This area is popular with tourists who enjoy its majestic scenery and leisure activities.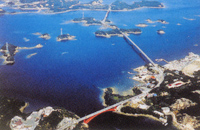 Amakusa
Amakusa, once a remote island, has now been connected to the mainland by five bridges with unique designs, offering entertainment opportunities such as fishing, marine sports, and aleisurely drive.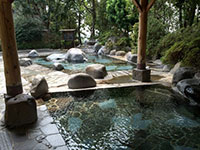 Hot Springs
The charm of the "fire country," Kumamoto has its various hot springs located across the prefecture, such as the renowned Kurokawa Hot Spring and numerous other hot springs popular with the local population.
Climate
The weather is generally mild. The weather changes from hot and muggy (25-35℃) in July and August to windy and cold (2-10℃) in January and February.  Autumn and spring offer the most comfortable weather. When you get here in October or April, it will be the beautiful seasons and the temperature will be moderate (14-24℃). Therefore you will not need to put on a coat, but rather only a light jacket. Once the winter season comes in late November, you will need some sweaters and a winter coat. Warm clothing is necessary in January and February. We rarely have heavy snow in Kumamoto.
Sightseeing spots
Local attractions include Kumamoto Castle, one of the oldest and grandest medieval castle in Japan; Kumamoto downtown area, located 10-15 minutes away from Kumamoto University by bicycle and known for a lot of office building and shopping streets; the Amakusa Islands, a chain of 120 islands known for their exciting Christian history and plenty of rich nature; and Aso National Park, crowned by the active volcano Mt. Aso, with the largest caldera volcano in the world. Because of its proximity to Mt. Aso, the Kumamoto area also has an abundance of natural hot springs. Kumamoto is also well-known in Japan for its delicious drinking water. Because the rainfall that soaks into the ground in the mountains of the Aso region takes many years to come out, one can always be able to drink delicious water.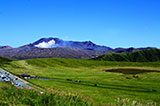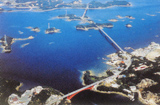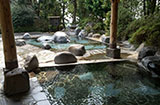 >>OFFICIAL KUMAMOTO TOURISM GUIDE<<

Transportation
It takes one and a half hours for you to go to Tokyo from Kumamoto by airplane. You can get to Kyoto, famous for its historical sights, in two and a half hours by a "shinkansen" bullet train from Fukuoka. Since Japanese railways and bus routes have been expanded throughout the country, you can easily visit other cities in Kyushu, as well as other areas in Japan.
Many students use a bicycle because of the flat land in Kumamoto and to have easy access to downtown.