Top Global University Project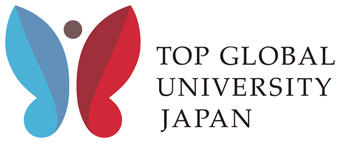 A Leading University Cultivating Global Leaders from Kumamoto
In 2014, Kumamoto University, along with 23 other leading universities, was selected to take part in the Top Global University Project, run by the Ministry of Education, Culture, Sports, Science and Technology. Our slogan "A Leading University Cultivating Global Leaders from Kumamoto" reflects educational reforms which aim to transform us into a truly global university and help us become established and ranked as a world-class university with state-of-the-art research centers.
The 4 major targets are shown below:
1. An education system highly conductive to internationalism
We are introducing a new education system that is compatible with the academic year of other countries and allows graduate students to enroll early or study abroad, and offers flexible credit transfers. Furthermore, the establishment of the College of Cross-Cultural and Multidisciplinary Studies shall facilitate the globalization of our undergraduate education, and contains 3 education centers (Center for Global Communications, Center for Japanese Language and Culture, Center for Open Education). Liberal arts courses in English and a global education will be offered.

2. Global atmosphere for the inclusion of international students
We want to enhance our high quality curriculum to students learning about Japanese culture. To this end, we are creating a Division for Japanese Language Education to promote enrollment of international exchange students and researchers. Additionally, the Office of Global Affairs will offer a variety of services, including support and advice for exchange students and promotion of international networking events.

3. Strengthened and globalized graduate education to support cutting-edge research
We are beginning a global education program that applies to both undergraduate and graduate-level studies with the aim of educating elite graduates going on to be active throughout the world. A Globally Coordinated Education Program is also being created for the purpose of sending students abroad and to partner with universities in the US and Europe to offer double degrees and support collaborative research.

4. Global campus as a driving force for internationalization in the local community
The Division for Open Global Education is the core of our KU Global Youth Campus program. This program not only provides opportunities for local teens to receive an early global education, but also assist study abroad programs.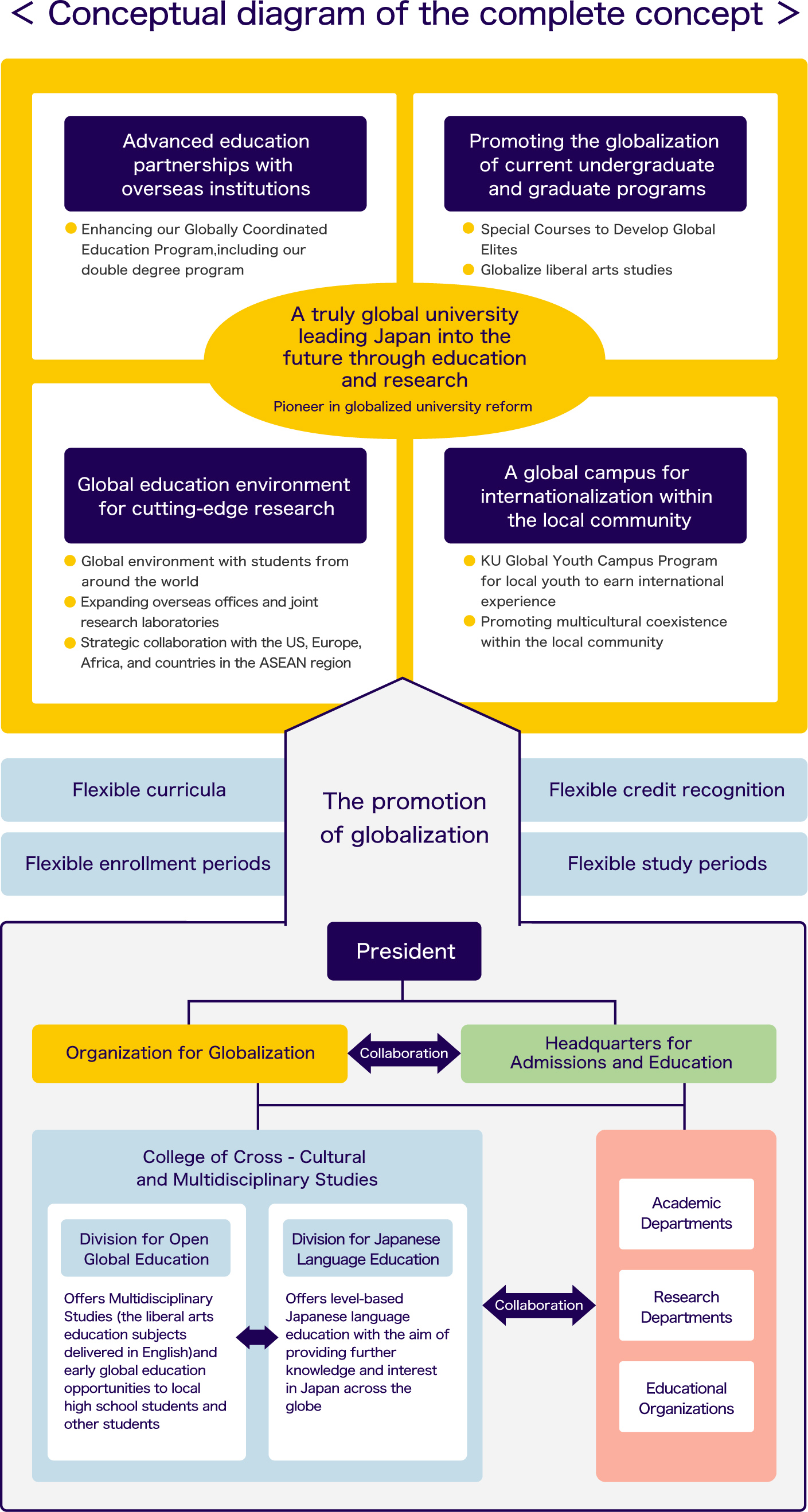 We envisage an undergraduate education system with a highly international compatibility globalization of undergraduate education with through the College of Cross-Cultural Multidisciplinary Studies serving as its driving force. As one of the systems promoting diversified acceptance patterns for overseas students, as well as for Japanese students who wish to study abroad, a curriculum system will be introduced, in order to achieve flexible enrollment and flexible course terms for students wishing to complete the course in 2-months. Furthermore, the university actively promotes the globalization of postgraduate education to support the world's most advanced research activities, and holds the "Global Campus" to foster community development open to the world.



The site of the College of Cross-Cultural Multidisciplinary Studies



Kumamoto University Top Global University Project Brochure (PDF 3.4MB)

What is a Top Global University?
This project was founded by the Ministry of Education, Culture, Sports, Science and Technology in 2014. The aims are to enhance the international compatibility and competitiveness of higher education in Japan. It provides prioritized support for the world-class and innovative universities that lead the internationalization of Japanese universities. Selected universities are expected to press forward with comprehensive internationalization and university reform.


Selection for the FY 2014 Top Global University Project (by MEXT) (PDF 0.3MB)


https://tgu.mext.go.jp/en/index.html (Top Global University in Japan)