Faculty of Life Sciences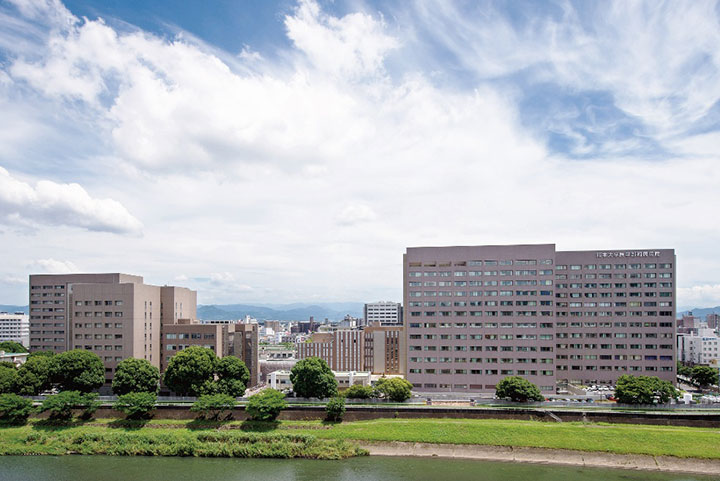 Faculty of Life Sciences
The explosive growth in life science research in recent years has caused the traditional boundaries between the fields of medical, health science and pharmaceutical research to be substantially diminished. Due to that, and to the striking development of research in the area of interdisciplinary studies, we are now in an era where the integration of these fields has become essential. In order to respond to these developments, the former Graduate Schools of Medical Sciences, of Pharmacy and of Health Sciences were integrated. As a result, a graduate school with a new system that has a separate research department (faculty-only organization) and education department (educational organization) was established in April 2003. The faculty of Life Sciences is composed of 3 divisions, 14 major departments, and 62 departments of research, and is one of the largest research-oriented organizations with medical, pharmaceutical and health science university staffs in Japan. In the Division of Integrated Life Sciences, research is conducted with the aim of deepening the understanding of basic knowledge and theory in the fields of medicine, health science and pharmacy. In the Division of Advanced Biomedical Sciences, advanced research in the field of life sciences is conducted in such areas as transplantation therapy and new drug development. In the Division of Environmental and Sociomedical Sciences, along with scientific investigation of the link between both society and medicine/pharmacy as well as between disease and the environment, leading research related to life theory is conducted. The mission of the Faculty of Life Sciences is to contribute to the health and well-being of mankind through research and education related to life sciences and medical care.

URL:
http://www.medphas.kumamoto-u.ac.jp/en/faculty/index.html
Institution
Southern Kyushu and Okinawa Unit Center of Japan Environment and Children's Study
Southern Kyushu and Okinawa Unit Center of Japan Environment and Children's Study was founded as a research institute in July 2010 under the Faculty of Life Sciences at Kumamoto University. Children are exposed to various environmental risks, such as natural and manmade chemicals and socio-economic factors. The Japanese government (Ministry of the Environment) established a birth cohort study in 2010 to understand the effects of children's environmental exposures and to explore ways to reduce children's risks from environmental exposures. The Unit Center collects data within the designated study regions, and investigates environmental factors that affect children's health and development.
Center for Metabolic Regulation of Healthy Aging
Japan is now a "super-aged" society, and the question of how to extend a healthy life expectancy has become a policy issue. On May 1, 2018, we launched a new Center for Metabolic Regulation of Healthy Aging (CMHA). CMHA comprises five divisions: (1) Metabolic and Circulatory Research, (2) Cancer and Stem Cell Research, (3) Nervous System, Sensory, and Locomotive Research, (4) Animal Models of Aging Research, and (5) Epidemiological Research. The goal of CMHA is to advance research on healthy aging, and train internationally competitive human resources in these fields.
Center for Medical Education and Research
The Center for Medical Education and Research was founded in October 2010 to contribute to the training of medical professionals through research and practice in order to achieve its educational mission of fostering medical specialists. The Center carries out (i) research on building systems for the education of medical professionals, (ii) curriculum reform aligned with a new medical education system, (iii) instruction in clinical medicine via student participation and practice in clinical medicine and procedures, etc.
Global Center for Natural Resources Sciences (GCNRS)
The Global Center for Natural Resources Sciences (GCNRS) promotes natural product sciences and the UpRod project1) by utilizing a global research collaboration to improve lives and human health through developing innovative novel medicines. GCNRS will contribute to the development of human networks and resources related to the conservation of natural resources in different parts of the world. Furthermore, in cooperation with various related companies, this center will promote drug discovery research geared toward realizing the vision of a glocal society where natural ecosystems and human health are coordinated and harmonized.
1) UpRod project: In this project, we collect useful natural products that are not yet utilized around the world, extract active ingredients, and evaluate their pharmacological efficacy. We then select and optimize drug candidate compounds before we commercialize them.

Center for Biomedical Laboratory Science

The development of clinical laboratory techniques has led to the highly advanced medical diagnostic technology available today. To ensure the sustainable development of medical care, it is important to promote the development of new diagnostic technologies and cultivate human resources by reinforcing research at the university. We also have a duty to provide medical laboratory techniques developed in the university to the community as part of our social contributions. The Center for Biomedical Laboratory Science was affiliated with the Faculty of Life Sciences in Kumamoto University on April 23, 2021 to promote research and development of novel laboratory techniques, training of advanced medical professionals, and provide laboratory tests to the community. The Center carries out administrative screening inspections and mutational analyses of SARS-CoV-2 in partnership with Kumamoto city and prefectural governments and conducts research and development on novel inspection technologies. Through this work, the Center also trains advanced medical professionals.