Eisei-Bunko Research Center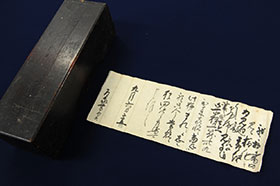 The Eisei-Bunko Research Center was established in 2009 as a facility affiliated with the Faculty of Letters. In April 2017, the Center was reorganized as an Inter-Department Institute for Education and Research to expand its achievements in research and social contributions more broadly.
Research is focused on the Eisei-Bunko Collection, a collection of documents related to the Kumamoto Domain. This collection is currently housed at Kumamoto University, and the documents are among the most detailed and extensive accounts of daimyo-era Japan available, both in terms of quality and quantity. This is a priority area for research and philanthropy unique to Kumamoto University.
Through the general study of the Eisei-Bunko Collection and other documents, the Eisei-Bunko Research Center has developed a solid research foundation. The Center also cooperates with culture organizations and local government to provide the results of its studies to the local community. In addition to this, the Center helps train students to be able to contribute in promoting culture and research that focuses on the humanities and social sciences.

URL:
http://eisei.kumamoto-u.ac.jp/en/