University Library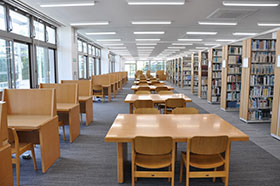 The University Library is composed of the Central Library, the Medical Library and the Pharmacy Library. It provides information resources and services to support the University's educational and research activities. The Central Library is open from 8:40 a.m. to 10:00 p.m. from Monday to Friday, and 12:00 p.m. to 6:00 p.m. on Saturdays and Sundays. (except for the vacations)
Library Holdings (As of March 31st, 2021)
| | | |
| --- | --- | --- |
| | Books | Periodicals |
| Central Library | 1,041,185 | 15,065 |
| Medical Library | 172,907 | 5,365 |
| Pharmacy Library | 35,748 | 1,031 |
| Total | 1,249,840 | 21,461 |
Special Collections of Books and Manuscripts
1. The Aso Manuscript Collection
This impressive collection of historical documents, formerly kept at Aso Shrine, contains a wealth of information relating to the Nanbokucho and Kamakura Periods. Of the 1,047 items of this collection, 34 volumes of 304 letters and 36 manuscripts have been designated as Important Cultural Properties.
2. The Hosokawa Manuscript Collection
This is the largest collection of primary source materials on the administration of the Hosokawa government (Hosokawa Han), ranging from the Nanbokucho Period to the early Meiji Period.

URL:
http://www.lib.kumamoto-u.ac.jp/eng/howtouse