School of Medicine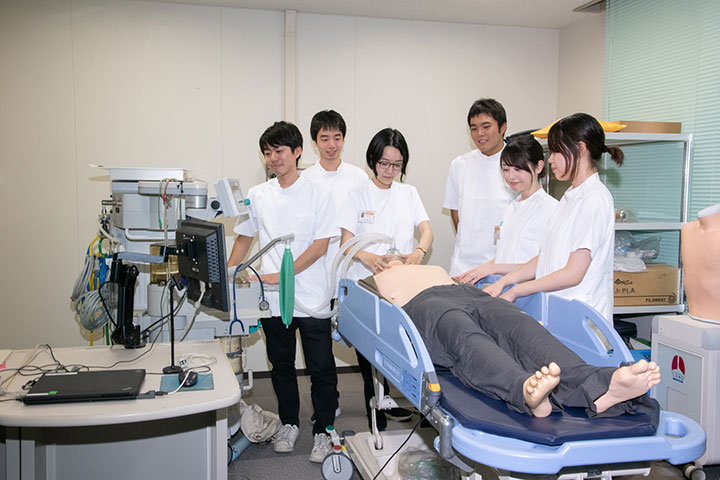 School of Medicine
School of Medicine
Subjects
Molecular and Cellular Biology, Molecular Genetics, Anatomy and Histology, Physiology and Biochemistry, Microbiology and Immunology, Pathology and Pharmacology, Social and Environmental Medicine, Internal Medicine, Surgery, Developmental Medicine, Bioethics, Sensory and Motor Medicine, Clinical Neurology and Psychiatry, Integrated Medicine

School of Health Sciences
Courses
Course of Nursing, Course of Radiological Sciences, Course of Medical Laboratory Sciences
Graduate School of Medical Sciences
Master's Course
Medical Sciences

Doctoral Course
Medical Sciences
Graduate School of Health Sciences
Master's Course
Nursing, Radiological Sciences, Medical Laboratory Sciences

Doctoral Course
Nursing, Radiological Sciences, Medical Laboratory Sciences
School of Medicine
  The Kumamoto University School of Medicine comprises the School of Medicine, which offers a six-year medical degree program, and the School of Health Sciences, which offers a four-year health sciences degree program. The Kumamoto University School of Medicine fosters doctors and medical professionals possessing cutting-edge medical knowledge and deep compassion for their patients.
  The School of Medicine has produced over 10,000 graduates since it was established as the independent Kumamoto Medical School in 1896. Specialized instruction in the field of medicine is provided by faculty members in medicine and life sciences. The School of Medicine has developed a curriculum that mostly reflects actual medical research and medical care, focusing on fostering medical doctors with excellent personal communication skills. The Center for Medical Education and Research was founded in October 2010 with the mission of educating medical professionals. This Center carries out research on educational systems, curriculum reform of the Medical School, education of clinical medicine and practical techniques, and so forth.
  In October 2003, the College of Medical Sciences, which included an advanced midwifery course, and the Nursing Teacher Training course from the Faculty of Education were integrated into the School of Health Sciences. The School has three courses (Course of Nursing, Course of Radiological Sciences, Course of Medical Laboratory Sciences), and aims to provide a spiritually rich education based on respect for life and humanity, along with a high level of specialized knowledge, and is cultivating medical staff, researchers, and educators who are highly qualified to contribute to many facets of society as members of medical teams.


URL:
http://www.medphas.kumamoto-u.ac.jp/en/medical/index.html