Post-quake Reconstruction Planning through Engagement with Local Communities and Municipalities
Mashiki Lab, the Center for Water Cycle, Marine Environment, and Disaster Management



Research overview – Regional reconstruction by bridging local residents and local governments

In April 2016, Kumamoto Prefecture was severely damaged by the Kumamoto Earthquake. As a community-based national university, Kumamoto University launched the Kumamoto Reconstruction Support Project. This project aims to contribute to the reconstruction of Kumamoto by utilizing the research outcomes as well as educational and research resources that the university has accumulated over the years. The Mashiki Lab was established as part of this Project.
Six months after the Kumamoto Earthquake, the Mashiki Lab opened as a satellite laboratory at the Akitsugawa River Park in Mashiki Town with the aim of helping the town recover from the devastating damage. To assist with city planning and reconstruction efforts, experts and students from Kumamoto University draw a future vision of the town by engaging with local residents at an actual site. Additionally, we work together with the town personnel toward reconstruction by providing advice and suggestions in response to a variety of requests from local residents and local government personnel on topics regarding the reconstruction of houses and roads, rebuilding local communities, and visions for the future of the town.
For example, in a project to expand existing prefectural roads to four lanes, which was a part of the town's reconstruction program, students studying civil engineering and those studying architecture worked together to create a model of the roadside space. Using this model, the Mashiki Lab organized an opportunity in which local residents and local government personnel exchanged opinions about the future of the town after reconstruction. Based on this community engagement event, the Mashiki Lab compiled its recommendations and submitted them to the governor of Kumamoto Prefecture. Many of the recommendations are reflected in the reconstruction efforts.
The Mashiki Lab continues to explore opportunities to contribute to reconstruction of the town, including 1) planning and design of parks and public housing in collaboration with local residents, 2) supporting the regional reconstruction passing on the memories of the quake future generations, and 3) holding events and workshops to discover local attractions.
We are also considering initiating a joint research project with other universities in areas that have experienced major earthquake damage. By comparing the Kumamoto Earthquake with past disasters in other areas, we aim to compile knowledge that will be useful in future disasters.

For more information about our projects and research, please visit (Japanese Only): https://cwmd.kumamoto-u.ac.jp/mashikilab/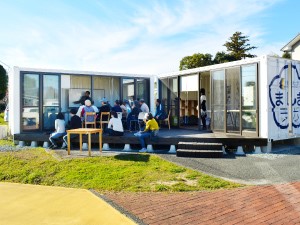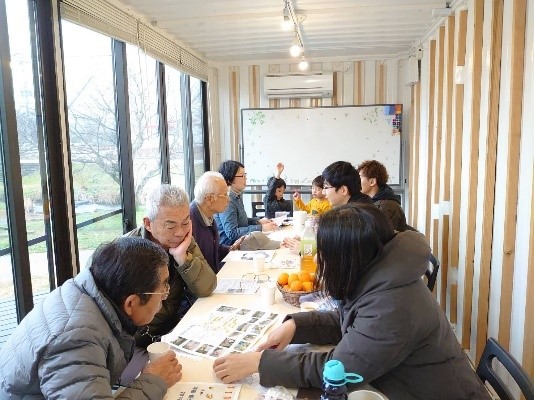 Researcher interview — Achieving SDGs ー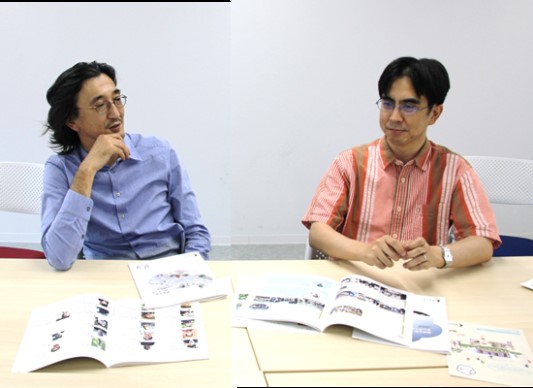 Assoc. prof. HOSHINO (right), Assoc. prof. MARUYAMA (left)

Please tell us about how Mashiki Lab's activities are influencing the reconstruction of the entire region and future city planning.

Establishing the Mashiki Lab in an affected area provides an environment where local residents and local government personnel can casually drop in and consult with experts from our university to discuss the damage, subsequent rebuilding of their lives, and the reconstruction of the region. At the same time, the presence of the Mashiki Lab helps Kumamoto University examine how it can support regional reconstruction by being in the affected areas, listening to the voices of the local residents and the local government, and serving as a bridge between the two parties. In the immediate aftermath of the quake, the affected areas received direct assistance from volunteers and a variety of support programs from all over the country. However, post-disaster reconstruction and future city planning is a long-term process that requires ongoing support. As a community-based university, we would like to stay close to the people living in affected areas and contribute to further development of the region.

What global issues are you aiming to solve with the comprehensive efforts at the Mashiki Lab?

In addition to contributing to the creation of a resilient city towards earthquake recovery, the Mashiki Lab's activities have strengthened our partnerships among the university, local government, and local residents. Through the various activities and exchange of opinions at the Mashiki Lab to solve regional issues, the local residents and local government have become more proactive. Young local government officials are leading efforts to revitalize Mashiki Town. Community development councils and many voluntary disaster prevention organizations have also been established with new community leaders.
The Mashiki Lab also provides valuable learning opportunities for students at Kumamoto University. Students majoring in city development, city planning, architecture, civil engineering, etc., can learn firsthand about the challenges and rewards of engaging in actual projects by visiting affected areas frequently to conduct fieldwork, compiling their own proposals, and giving presentations to local residents. I have confidence that highly motivated students who have grown through these experiences will play active roles in their respective fields utilizing their earned expertise and experiences in the future.