Historical Documents Regarding Kumamoto Castle: Repeated Damage Due to Natural Disasters and the Repairs Performed
Two major earthquake occurred sequentially on April 14th and 16th, 2016 which caused significant damage across the Kumamoto region. Kumamoto Castle, the symbol of Kumamoto, suffered serious damage including the collapse of stone walls, damage to several small turret towers, and damage to the main castle tower. Although the words "partially collapsed castle" may give the impression of a major crisis for the first time since the fortification was erected, historical documents held at Kumamoto University's Faculty of Literature have revealed that the castle has endured repeated damage from natural disasters beginning soon after its construction.

Kumamoto City is located in the center of Kyushu in the south of Japan and has a population of about 740,000. People have been living on the island for approximately 30,000 years. The precursor of Kumamoto Castle was built in the 15th century, and the prototype of the current castle was built around the year 1600. It is called one of the three great castles in Japan because Lord Kiyomasa Kato, who was a master castle-builder, is credited with giving it its superior functionality and beauty.

The two recent earthquakes had magnitudes of 6.5 and 7.3 (as reported by the Japan Meteorological Agency) respectively, and wreaked considerable damage on the castle. About ten percent of the stone walls surrounding the castle have collapsed, some of the small towers were completely destroyed, and the main castle building was stripped of almost all of its kawara (Japanese traditional style roof tiles). Most notably, it is said that restoration of the stone walls will cost around 35 billion yen over the period of a decade. Many of the stone walls were constructed with some of the most unique and difficult stacking patterns in all of Japan. Those that came loose will need to be painstakingly re-stacked.

Listing the damage that has afflicted the castle might give people living today the impression that the castle is in its biggest crisis since it was built. However, according to the historical documents on Kumamoto Castle, several lords applied to the Tokugawa Shogunate (the central government during Japan's Edo Period from 1603 to 1867) for permission to repair collapsed stone walls that resulted from a natural disaster early on in the castle's history. These documents come from the Eisei-Bunko Research Center of Kumamoto University, where ancestral works, literary manuscripts, and other historical materials of the Hosokawa family –once the daimyo (lord) of Kumamoto, are safely stored for research and historical purposes.

"We focused attention on historical documents from the age of Tadatoshi Hosokawa, who was the third lord of Kumamoto Castle," said Ms. Noriko Goto, a member of the center's research staff. "Kumamoto Castle was completed in the year 1606 and Tadatoshi moved in 26 years later. In the following year of 1633 an earthquake occurred and Tadatoshi recorded detailed inventories for each area in need of repair, such as collapsed stone walls and fences around the castle. A year later, he frequently submitted letters and visited the capital asking the Tokugawa Shogunate for permission to make repairs."

At that time, the lords of each of the castles in Japan couldn't make any repairs, including to stone walls or fences, without the central government's permission. This was to avoid suspicion of preparing for war or organizing a rebellion against Tokugawa Shogunate. According to the records, Tadatoshi submitted requests frequently and took great care not to be accused of making any repair without permission.

"A significant earthquake occurred 7 years before Tadatoshi moved into the castle, and some damaged areas had not yet been completely repaired. The historical documents show that Tadatoshi had to submit permission to make repairs again and again due to several different incidents. Repairs to the castle were made first for damage sustained in the earlier earthquake, then to different areas of castle that became damaged in the 1633 earthquake, followed by damage from strong winds in 1635, then in 1636 from lightning, again in 1640 from heavy rain, and in both 1644 and 1676 due to heavy rain and flood," Ms. Goto said.

Though the documents that have been reviewed at this time are from the early Edo period (early 17 century), it is thought that repeated damage, caused mainly by natural disasters, and repairs have been a common occurrence at the castle.

"Even with many natural disasters, as is the case anywhere in Japan, these documents show that Kumamoto Castle has maintained its form through repeated repairs. The sight of castle undergoing repair would have been a daily sight for people for most of its 400-year life," continued Ms. Goto.

The castle is a symbol of Kumamoto, and many voices are saying that the restoration should be finished as soon as possible. On the other hand, it is very important to make the restorations carefully over a reasonable period of time.

"Rather than rushing the restoration, we think it is more appropriate to provide people the opportunity to view the repair process while also ensuring sufficient construction safety for the viewing public and the construction workers. We hope that Kumamoto Castle will continue to be highly regarded for the craftsmanship used in its construction and repair, as well as its beauty and durability over its next 400 years," said Ms. Goto.

After the recent earthquakes, the staff of the Eisei-Bunko Research Center have been performing rescue activities that have saved many historical documents from private homes affected by the disaster. The center has been entrusted with the temporary storage of many important documents. Already 120 boxes of historical documents and materials have been brought in for safe keeping.

Furthermore, projects supporting the restoration and utilization of cultural assets, like Kumamoto Castle, has been recently established by a collaboration of researchers from Kumamoto University's Eisei-Bunko Research Center, Department of Architecture and Building Engineering, and Division of History. Specialized support from their respective research fields toward the recovery and utilization of affected cultural heritage sites and historic buildings is provided by the group. They will provide advice and support in helping to return Kumamoto Castle to its pre-earthquake beauty.

[Link]

Eisei-Bunko Research Center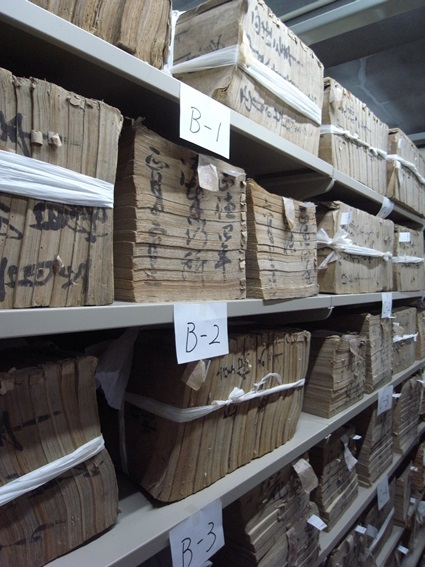 Historical materials in the Eisei-Bunko Research Center of Kumamoto University
Ancestral works, literary manuscripts, and other historical materials of the Hosokawa family –once the daimyo (lord) of Kumamoto are safely stored.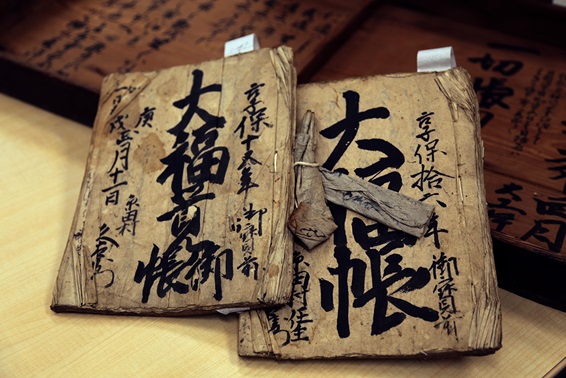 Rescued historical documents from a private home
Financial records of the village headman's house. Documents from Japan's Kyouho 16 era (1730) are seen here.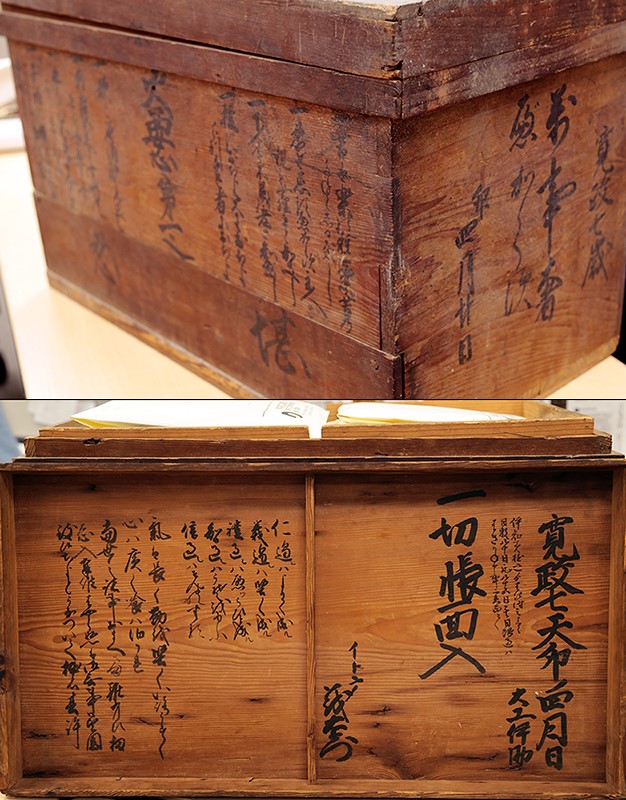 A wooden box where manuscripts had been stored
The date, rules for life, and moral lessons are written on both the sides of the box and the inside and outside of the lid.