The 9th Kumamoto University Forum (Shanghai)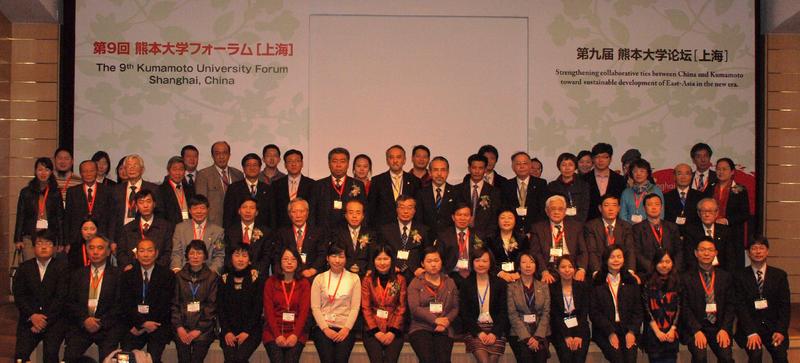 Kumamoto University organizes the "Kumamoto University Forum" annually in various locations around the world, with the aim of increasing its global presence, strengthening international networking, and promoting human resource exchanges.
On January 10, the 9th Kumamoto University Forum (Shanghai) was held in Shanghai, China. Taking the recent co-establishment of the Kumamoto Shanghai Office by Kumamoto Prefecture, Kumamoto City, and Kumamoto University as a good opportunity, the Forum, which targeted partner universities in China, (a crucial base for Kumamoto University from an international strategic standpoint), provided a place for people with the experience of studying at partner universities in China and at Kumamoto University to deliver their recommendations towards promoting exchanges between Kumamoto and China. At the same time, the Forum presented information regarding recent academic and research activities achieved by Kumamoto University.
The Kumamoto University Forum started with an opening speech given by President Taniguchi of Kumamoto University, followed by a congratulatory speech by Hikaru Maekawa, Director of the Public Diplomacy Center of the Japanese Consulate General in Shanghai. Following a presentation on Kumamoto University's academic and research overviews by Vice-President Yamanaka and Vice-President Harada, Prof. Chishima,Vice-Dean of the Graduate School of Social and Cultural Sciences, Prof. Nishiyama, Dean of the Graduate School of Science and Technology, Prof. Takeya, Dean of the Graduate School of Medical Sciences, Faculty of Life Sciences and Prof. Nishimura ,Vice-Dean of the Graduate School of Medical Sciences respectively explained their fields.
Following these presentations, Prof. Fan Liming, Vice President of Shandong University delivered lectures on the values, issues, and prospects of exchange programs with Kumamoto University. Furthermore, Ms. Maho Ideguchi of the Kumamoto Prefectural Office and Ms. Tomoko Kitazoe of the Kumamoto City Office introduced Kumamoto, to promote the area in which Kumamoto University is located. Prof. Chen of the Center for Globalization introduced the Higher Education Consortium Kumamoto. Finally, five former exchange students who had studied abroad at Kumamoto University gave presentations on their university lives in Kumamoto.
In conjunction with the Forum, a variety of events were held, including some between the delegates of 22 partner universities in China and President Tanguchi, an exchange party held by Kumamoto University graduates living in Shanghai, a booth dedicated to introducing Kumamoto University and the Higher Education Consortium Kumamoto, as well as panel exhibitions promoting Kumamoto University's faculties, departments, and so on.
In total, over 170 people including Chinese and Japanese university faculty and staff members, students, Kumamoto University graduates, as well as government and corporation officials participated in the Kumamoto University Forum and its series of events allowing everyone to deepen their relationships.