National Important Cultural Properties
KUMAMOTO UNIVERSITY MUSEUMS
The main building of the former Fifth High School, now the Memorial Museum, is the symbol of Kumamoto University. The building has been designated as an National Cultural Property, along with the Chemical Laboratory, the main gate, and the Museum of the Engineering Faculty. We also preserve the tangible cultural properties of the Yamazaki Memorial Hall on the Honjo campus and the Kumayaku Museum on the Oe campus. We are planning to create the "Kumamoto University Museum," which will consist of these buildings and artifacts. As the first step in this process, the university initiated the renewal of the Memorial Museum of the Fifth High School in 2006, and is now gathering historical documents and materials. An exhibit is currently open to the public.

The Memorial Museum of the Fifth High School
The Fifth High School was established for young boys as the most prominent educational institution in Kyushu in 1887. Jigoro Kano, Yakumo Koizumi (Lafcadio Hearn) as well as Soseki Natsume were among the more celebrated professors who taught here. Even after 100 years, the original Fifth High School building is still well-maintained and very much appreciated by the public.
Hours:
10:00 – 16:00 (Entrance allowed up to 15:30)
Days closed
Every Tuesday, August Obon holidays
Year-end and New Year's holidays
National holidays between December and February only
Admission
Free

The Front Gate (The Red Gate)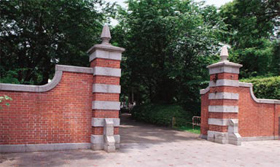 The front gate of the Fifth High School is popularly known as the Red Gate (AKAMON) and is still the dignified main gate of the north campus of Kumamoto University.
The Chemical Laboratory of the Fifth High School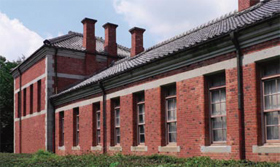 This building was used as the lab for chemical experiments. There is a row of labs as well as a tiered lecture hall with a corridor situated on the west side.

Museum of the Engineering Faculty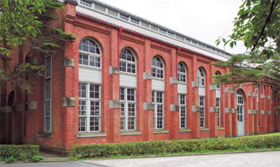 This building was constructed in 1908 as a machine shop for students of the former Kumamoto Junior College of Technology. The exhibits include various machines and tools still in working condition. The public is welcome to visit the museum during Open Campus Days, the University Festival and of course the following Days.
Days Opened
The third Friday of the month
(13:00 - 16:00)
Admission
Free