Summer and Spring Programs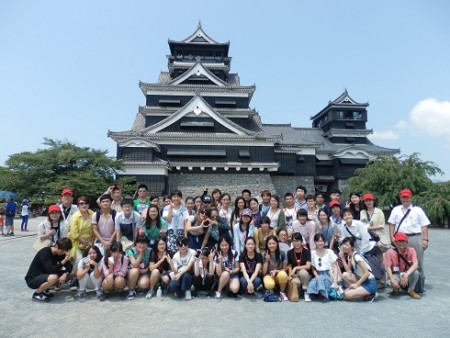 The Summer and Spring Programs offered by the College of Cross-Cultural and Multidisciplinary Studies at Kumamoto University were created to provide international students who have an interest in studying abroad in Japan with a chance to experience life as an international student at Kumamoto University.
The Summer Program offers two courses to participants: an English Course (conducted in English) and a Japanese Course (conducted in Japanese).

Program Periods
Summer Program: Late July – Early August (around 10 days)
Spring Program: Mid to Late February (around 10 days)
Place
Kumamoto University, with educational expeditions around Kumamoto Prefecture, JAPAN
Eligibility
Participation in this program is open to students who:
・are undergraduate students studying at universities with which Kumamoto University has agreement for academic or student exchange
・have English language proficiency equal to or greater than IELTS level 5 (for English Course only)
・have Japanese language proficiency equal to or greater than JLPT level N4 (for Japanese Course only)
・are considering studying abroad in Japan in the future
*Please note that participation in this program is limited to 40 students. If we receive more than 40 applications for the program, a selection will be held based on the Letter of Recommendation submitted by your university.

Contents
The Summer and Spring Programs offer a variety of engaging activities including:
・Classroom lectures on Japanese life and culture
・First-hand cultural learning experiences
・Guided educational field trips within Kumamoto Prefecture
・Interaction and exchange with Kumamoto's local community
・Japanese language classes (Japanese Course only)
・A Certificate of Completion will be awarded to all students who successfully complete the contents of the program.
*Contents are tentative and subject to change.
For more information, please refer to each program's web page.