Faculty of Letters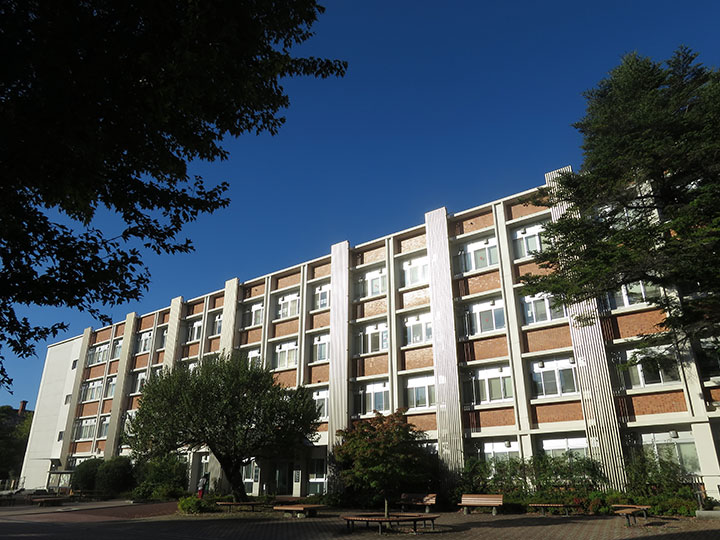 Faculty of Letters
Department of Integrated Human Studies
Human Sciences, Socio-human Studies, Regional Science

Department of History
Japanese History and Archaeology, the Modern World System

Department of Literature
East-Asian Languages and Literature, Euro-American Languages and Literature, Transregional Studies of Language and Literature

Department of Communication and Information Studies
Communication and Information Studies, Contemporary Cultural Resource Studies
Faculty of Letters
The Faculty of Letters was established in May 1949 as part of the new Faculty of Law and Letters. This faculty was then split into the Faculty of Law and the Faculty of Letters in 1979. The education and research framework of the Faculty of Letters consists of four educational departments, which are the Department of Integrated Human Studies, the Department of History, the Department of Literature, and the Department of Communications and Information Studies. The Faculty welcomes 170 new students each year. Approximately 70 faculty members are conducting academic research in a broad number of areas, including the humanities, social studies, and cultural studies.

To satisfy new and contemporary needs, three interdisciplinary courses that made use of an existent educational system for cross-disciplinary learning were established in 1997. In 2005, these courses were disbanded and the Department of Communication and Information Studies was established. The aim of its establishment is to help students acquire outstanding abilities in international communication using English, as well as to teach them to excel at processing information. There are numerous international students across the Faculty, which is striving to develop people who can contribute to the international community through various researches.

The Faculty's research activities include aspects of the history and social problems specifically related to Kumamoto prefecture. The Eisei-Bunko Research Center, an interdepartment institute of Kumamoto University since 2017, was originally established as an affiliate institute of the Faculty of Letters in 2009. The purpose of the Center is to enable analysis of the scholarly values of historical materials in the Hosokawa clan's centuries-old collection, and to promote academic advances of its research. Currently, on-going projects by the Faculty such as archival studies of Minamata disease based on the aggregation of field research data, and literary studies of Meiji era writers who taught in Kumamoto are expected to be recognized as prioritized by the University.

Institution
Center for Soseki and Hearn Studies
The Faculty of Letters Center for Soseki and Hearn Studies (established December 2017) aims to create an organization dedicated to the comprehensive research of Natsume Soseki and Lafcadio Hearn, focusing mainly on Kumamoto University's own collection, coordinating with cultural administrative organizations to promote cultural advancement in the region, and using these activities to train professional researchers who will contribute to research in the humanities and social studies as well as cultural promotion.


URL: http://www.let.kumamoto-u.ac.jp/en/