Mission Statement
At the Kumamoto University Faculty of Letters, our goals are "regional cooperation and public contribution in education and academic culture," which means that we strive to conduct advanced academic research and provide intellectual resources to the community along with nurturing human resources such as researchers.
Based on the achievements of the Faculty of Letters projects like Kumamoto University Core Research B, promoting basic and interdisciplinary studies that contribute to the growth of research in the fields of social and cultural sciences in the Eisei Bunko historical archives has proven to be an effective means of realizing these goals.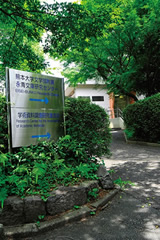 To nurture this unique study, it was necessary that we establish a research organization in our faculty for the Eisei Bunko archives. This has in turn allowed us to work together with cultural administration institutions in Kumamoto Prefecture, as well as aid cultural growth through community-based contributions. Adjustments to this organization will prove essential if the Faculty of Letters is to achieve further progress such as expanding collaborative research with related departments like the Graduate School of Social and Cultural Sciences to create a hub for studies in the arts and social sciences.
Given all that has been stated above, we established this center with the intent of organizing central research of appropriate historical materials through comprehensive study of the Eisei Bunko archives, aiding cultural development of the community by cooperating with cultural administration institutions, and contributing to the cultivation of human resources who can then further contribute to cultural development and studies in the fields of social and cultural sciences.