University Hospital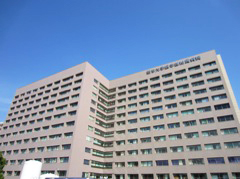 Kumamoto University Hospital comprises medical examination departments, a pharmaceutical department, a nursing department,
and central consultation facilities, among other features.

The hospital has 848 beds and over 1,300 outpatients per day. The hospital is currently advancing redevelopment plans such as the opening of a new Outpatient Building in September 2014, with the aim of constructing a university hospital that will be able to handle the medical science and medical care needs of the 21st century. Through this, the hospital is promoting the establishment of a comprehensive medical care system that combines advanced medical treatment and comprehensive holistic medical treatment. As a part of this, the divisions of medical treatment shifted to an overall medical care system categorized by each internal organ and body system starting in January 2004. Additionally, the hospital was designated as a Center of Prefectural Cancer Treatment and Center of Liver Disorder Treatment.

As the only Advanced Treatment Hospital in Kumamoto prefecture, the hospital is now focusing on improving the standards of healthcare for the local community.
Mission
Kumamoto University Hospital is dedicated to excellence in patient care, developing improved methods of healthcare, and developing health professionals and students. Members of the staff also contribute communities for their welfare and health.
Vision
| | | |
| --- | --- | --- |
| Patients First | | We dedicate to excellence in patient care for respecting patient's wishes, anticipations and requests |
| Excellence | | We provide high-quality health care in a safe and reliable manner |
| Teamwork | | We develop positive role for health professionals |
| Innovation | | We develop and improve the method of healthcare |
Patient Rights
・Right to medical care of good quality
・Right to information
・Right to self-determination
・Right to confidentiality
Patient Responsibilities
・To provide accurate and complete information about your health
・To follow any of hospital rules
・Not to disturb hospital peace

URL: http://www.kuh.kumamoto-u.ac.jp/en/index.html